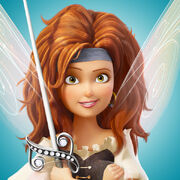 Zarina
is a Dust Keeper fairy. She will be featured in the next Tinker Bell movie,
The Pirate Fairy
. She is voiced by Christina Hendricks.
Appearance
Coming soon...
Personality
Coming soon...
Tinker Bell (series)
The Pirate Fairy
Zarina, a misunderstood Dust Keeper fairy, steals Pixie Hollow's all important Blue Pixie Dust and flies away to join the pirates of Skull Rock. Tinker Bell and her friends embark on an adventure to find her, but their world is turned upside down after their talents are switched.
Trivia
The name "Zarina" is of Persian origin and means "golden".
Zarina's web personalities are ambitious, curious, passionate.
Ad blocker interference detected!
Wikia is a free-to-use site that makes money from advertising. We have a modified experience for viewers using ad blockers

Wikia is not accessible if you've made further modifications. Remove the custom ad blocker rule(s) and the page will load as expected.