Honey, I think the garden needs some work...

This article is a stub. You can help Disney Princess & Fairies Wiki by expanding it. Make sure to read the rules before editing.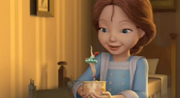 Wendy Darling
is the owner of the music box which
Tinker Bell
fixed. She's voiced by
America Young
.
Appearance
She has long brown hair, which is often tied in a low and loose bun, white skin and blue eyes.
Personality
As the oldest child of the family, Wendy is showed as an innocent, sweet, kind and caring sister.
Trivia
The name "Wendy" is of English origin and means "friend".
Despite being a British girl, in the movie, she doesn't use a British accent and has an American one instead.

Ad blocker interference detected!
Wikia is a free-to-use site that makes money from advertising. We have a modified experience for viewers using ad blockers

Wikia is not accessible if you've made further modifications. Remove the custom ad blocker rule(s) and the page will load as expected.