My make-ups are really completed, sugar!

This Movie article is graded A. It has all the necessary sections, images and information, which makes it a complete article.
Tinker Bell and the Great Fairy Rescue
Movie Information

Air date
August 13, 2010 (UK)
September 21, 2010 (US)
Written by
N/A
Directed by
Bradley Raymond
Production code
003
Box office
$10,872,752
Running Time
79 minutes
Movie Navigation
← Previous
Tinker Bell and the Lost Treasure
Next →
Pixie Hollow Games
Tinker Bell and the Great Fairy Rescue is the third movie in the Tinker Bell series.
Story
Tink and her friends have an exciting journey that turns into "kidnapping". On their way to the rescue, they find a girl who believes in fairies and succeeds in very big things.
Summary
Tinker Bell gets kidnapped by a human. But then befriends her while her friends save her.
Plot
The pixies go to the camp. Tinker Bell is very excited. Many things happen in this journey.
Without thinking, Tink goes to the area where humans live. Vidia tries her best to stop her, but Tink refuses. She enters a small house that a human had made. Vidia locks the door, in order to teach Tink a lesson about how dangerous humans are. But the lock gets stuck. The girl who had made the house takes it.
Vidia tells every one that Tink had been kidnapped. They begin to come up with a plan to rescue Tink.
Meanwhile, Tinker Bell had become friends with the girl who's name is
Lizzy
. They had fun making a journal about fairies.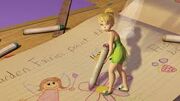 But then, Dr. Griffiths caught sight of Tink and was going to take her to the museum. Vidia, who had just arrived to save her, took Tink's place in the jar. And was trapped.
Tink and her friends begin the rescue of Vidia. They succeed in 2 things:
Rescuing Vidia.
Helping Dr. Griffiths respect nature and believe in fairies.
The movie ends with the fairies, Cheese and Lizzy and her father enjoying a picnic.
Characters
Ad blocker interference detected!
Wikia is a free-to-use site that makes money from advertising. We have a modified experience for viewers using ad blockers

Wikia is not accessible if you've made further modifications. Remove the custom ad blocker rule(s) and the page will load as expected.