The Little Mermaid: Ariel's Beginning is the third movie of The Little Mermaid. The movie shows the childhood of Ariel and her sisters after the dead of their mother, Athena.
Plot
Coming Soon...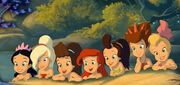 Characters
Mermaids
Ariel's sisters

Aquata
Andrina
Arista
Attina
Alana
Adella
Coming soon...
Cast
Coming Soon...

Ad blocker interference detected!
Wikia is a free-to-use site that makes money from advertising. We have a modified experience for viewers using ad blockers

Wikia is not accessible if you've made further modifications. Remove the custom ad blocker rule(s) and the page will load as expected.