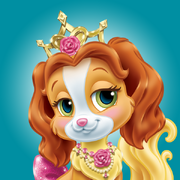 Teacup
is
Belle
's palace pet.
Background
Belle and Teacup met one day in the village square; Teacup was entertaining a crowd by balancing apples on her head!
Personality
Teacup loves shopping for accessories and always chooses the perfect pieces for the occasion.
Appearance
Teacup has brown hair, a blonde tail, light brown fur with white in the middle of her face and in her paws, a rose tiara and necklace, a pink bow over her tail, and a yellow paw tattoo.

Ad blocker interference detected!
Wikia is a free-to-use site that makes money from advertising. We have a modified experience for viewers using ad blockers

Wikia is not accessible if you've made further modifications. Remove the custom ad blocker rule(s) and the page will load as expected.