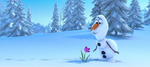 Olaf is the upcoming character of newest Disney Princess movie, Frozen. He is a snowman created by both Elsa and Anna when they were little and brought to life. Other things coming soon...
Trivia
The name "Olaf" is of Old Norse origin and means "ancestor's relic".

Ad blocker interference detected!
Wikia is a free-to-use site that makes money from advertising. We have a modified experience for viewers using ad blockers

Wikia is not accessible if you've made further modifications. Remove the custom ad blocker rule(s) and the page will load as expected.