Honey, I think the garden needs some work...

This article is a stub. You can help Disney Princess & Fairies Wiki by expanding it. Make sure to read the rules before editing.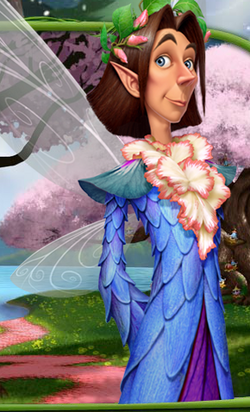 The 
Minister of Spring
 is the minister who organizes and checks the preparations for spring. He is voiced by
Steve Valentine
.
Appearance
He has white skin, brown hair and green eyes. His clothes are made from colorful violets. He also wears a leafy crown.
Personality
Although Spring is a wild, merry, and carefree season, the Minister of Spring is not any of those things. The Minister imposes perfect order on the preparations for his season. He is a fastidious sparrow man in a neatly-cut suit of spring blossoms. As serious as he is, the Minister of Spring is known for his kindness, especially to the plants.
Series
Coming Soon...
Trivia
Some Garden Fairies believe that he was a Garden Fairy before becoming Minister, but nobody knows for sure.
He's of Irish descent
Ad blocker interference detected!
Wikia is a free-to-use site that makes money from advertising. We have a modified experience for viewers using ad blockers

Wikia is not accessible if you've made further modifications. Remove the custom ad blocker rule(s) and the page will load as expected.