Come on! You can do it, Chipmunk!

This Character Article is a C! This article needs more imagery and sections to make it complete. Do what you can to help!
Iridessa is a fictional character from the Tinker Bell series. She is a light fairy with an African-American appearance.
Tinker Bell (series)
She is seen with the other fairies to see Tink's new power. Then, she is also seen when Tink tells them that she has to prove that she can be a nature fairy and that her friends have to train her. Iridessa was the last one to accept it. In Iridessa's training, Tink had to give the fireflies some light, but she failed.
In Tinker Bell and the Lost Treasure, she has a minor role, Iridessa does her daily duties and at the end,showers in the rain of blue pixie dust.
In Tinker Bell and the Great Fairy Rescue, she and her friends go to fairy camp. She took part in rescuing Tink.
In the fourth movie, Iridessa and her friends amaze Periwinkle and also helps to save her. She is also seen at the end of the movie.
Personality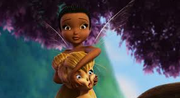 Iridessa is a worrywart and usually dosen't want to do anything her friends want to because she knows it will always be dangerous. Though she always ends up going with them, she usually tries to change her friends mind's. Iridessa has a good heart though, and will do anything for a friend. She is also a perfectionist.  
Powers
She is a talented light fairy, having control over rainbows and light. She also gives the light for the fireflies at sun set.
Appearance
She has dark skin with long black hair that is tied into small braids and brown eyes.
Normal
She wears a sunflower like dress with a sunflower's seed in her chest. And black and white colors on her waist.
Trivia
Iridessa's notable quote: "It might be the sparkliest thing I've ever seen: and I've seen a lot of sparkly things."
Iridessa's web personalities are bright, cheerful, focused.