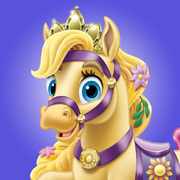 Blondie 
is
Rapunzel
's palace pet.
Background
Rapunzel met Blondie during a parade to celebrate the princess's return.
Personality
Blondie is a brave and trustworthy guard pony. Blondie is also very sweet, and no one salutes as elegantly as she does.
Appearance
She has a golden coat, a blonde tail with a pink bow and mane with a tiara, flowers, and a leaf. She has a violet/purple saddle and has a paw tattoo on her left leg.
Trivia
The name Blondie comes from the word "blondie", means "blond haired girl", and Rapunzel's hair used to be blond.

Ad blocker interference detected!
Wikia is a free-to-use site that makes money from advertising. We have a modified experience for viewers using ad blockers

Wikia is not accessible if you've made further modifications. Remove the custom ad blocker rule(s) and the page will load as expected.