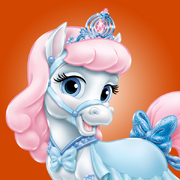 Bibbidy
is
Cinderella
's palace pet.
Background=
She was a wedding gift from the Fairy Godmother.
Personality
She's the most helpful pony Cinderella has in the royal stables and she adores doing chores.
Appearance
She has a light blue coat, a pink mane with a tiara and tail with a bow. She has blue eyes, and has a blue paw tattoo on her left leg.
Trivia
The name Bibbidy comes from the catchy phrase the Fairy Godmother often say before waving her magic wand.

Ad blocker interference detected!
Wikia is a free-to-use site that makes money from advertising. We have a modified experience for viewers using ad blockers

Wikia is not accessible if you've made further modifications. Remove the custom ad blocker rule(s) and the page will load as expected.