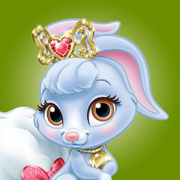 Berry 
is
Snow White
's palace pet.
Background
During a stroll in the forest, Snow White found Berry hiding beneath a blueberry bush and immediately discovered her fondness for food.
Personality
Berry is a gentle and graceful rabbit.
Appearance
Berry has light blue fur, a puffy tail with a red bow, brown eyes, and a bone-like tiara with a heart on the middle. Like the other palace pets, she has a blue paw tattoo on her right leg.
Trivia
The name "Berry" means "berry".

Ad blocker interference detected!
Wikia is a free-to-use site that makes money from advertising. We have a modified experience for viewers using ad blockers

Wikia is not accessible if you've made further modifications. Remove the custom ad blocker rule(s) and the page will load as expected.