Princess Belle is one of the Disney Princesses. She is the daughter of Maurice and her love interest is Prince Adam.
Movie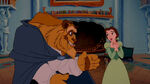 Coming soon...
Appearance
Belle has fair skin, long brown hair, hazel eyes and a heart shaped face.
French dress
Belle wears a white long sleeved dress with an aquamarine apron.
Princess Gown
She wears a golden off-shoulder dress, with transparent organza shoulder-cloth and attached with the dress by three round buttons. She also wears matching opera gloves and shoes.
Personality
Belle loves to read books, and she borrows them from the library in town. She dreams of adventures in the great wide somewhere and believes there is good in everyone, even the Beast.
Description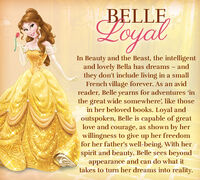 In Beauty and the Beast, the intelligent and lovely Belle has dreams - and they don't include living in a small French village forever. As an avid reader, Belle yearns for some adventures "in the great wide somewhere", like those in her beloved books. Loyal and outspoken, Belle is capable of great love and courage, as shown by her willingness to give up her freedom for her father's well-being. With her spirit and beauty, Belle sees beyond appearance and can do what it takes to turn her dreams into reality. She cares a lot about her family.
Trivia
The name "Belle" is of French origin. It means "beauty".
Belle's princess personality is "Loyal".
She is the first princess to be in love with an animal/creature though the beast was later known to be a prince.
Belle's web personalities are smart, open-minded.