Ariel
Talk

0
339pages on
this wiki
Princess Ariel

Voiced by

First appearance

Nickname

Unknown

Origin

Atlantica

Relationship(s)
Princess Ariel is one of the Disney Princesses. She is the 16 year old daughter of King Triton and Queen Athena. Prince Eric is her husband, while Melody is their daughter.
Series
Ariel first appears in The Little Mermaid, in which she is shown as being adventurous and curious about the world of humans, a fascination which angers her father, as merpeople are not allowed to make contact with the human world. She and Flounder go in search of human objects in sunken ships, which they take to a seagull named Scuttle to know what it is. Ariel falls in love with a human prince named Prince Eric after saving him from drowning, and visits the sea witch, Ursula, who agrees to turn her into a human in exchange for her voice. Ariel must make Prince Eric fall in love with her and romantically kiss her within three days, otherwise, she will belong to Ursula.
Unknown to Ariel, this agreement is part of Ursula's bigger plan to trap Ariel's father, King Triton, and steal his trident. After being transformed, she is soon found by Eric and is taken back to his castle. Ariel almost manages to obtain the "kiss of true love", but is stopped by Ursula's underhanded tactics. On the third day, Ursula transforms herself into a human, calling herself "Vanessa" and using Ariel's voice, and bewitches Eric to make him marry her. After learning from Scuttle that the woman is Ursula in disguise, Ariel disrupts the wedding and regains her voice, but the sun sets as Ariel and Prince Eric are about to kiss, transforming Ariel back into a mermaid. Ursula takes Ariel back into the ocean, where she is met by King Triton and Sebastian.
Triton trades himself for Ariel, enabling Ursula to claim his trident. In the battle that follows, Ariel is trapped at the bottom of a whirlpool. Before Ursula can kill her, Eric kills Ursula by ramming a derelict ship's splintered prow through her enlarged torso. At the end of the film, Ariel is transformed into a human by King Triton's magical trident and she leaves to live with Eric and were married.
This 2000 direct-to-video sequel shows Ariel, having given birth to a daughter named Melody. When we first see Ariel playing with her newborn daughter, many toys of Flounder, Sebastian and other fish can be seen in the room, showing that she misses her old friends and family. When Melody's safety is threatened by a sea witch named Morgana (sister of Ursula, who died in the 1989 film), Ariel and her husband Eric decide they must keep Melody away from the sea, and to this effect, they build a large wall separating the castle from it. Melody's love of the sea proves too strong, however, and when Melody falls into Morgana's clutches, Ariel is forced to temporarily resume her mermaid form in order to rescue her and save Melody from Morgana's scheme. In this time, Ariel briefly returns to her grotto as seen in the first film, and studies the objects, (which we are left to presume survived King Triton's anger in the first film) and keeps looking for Melody. This sequel features Ariel becoming an over-protective parent for her daughter, effectively taking over the role of her father in the 1989 film. Ariel is the first and only mother of the Disney Princesses.
This direct-to-video prequel features Ariel as a young mermaid. King Triton, her father, has banned music from Atlantica because it reminds him of his deceased wife. It is also shown that Ariel and her sisters were raised very strictly after their mother's death. She learns about music after stumbling onto a forbidden music club. With all her heart, Ariel vows to help her father realize how wonderful music really is. At the same time, Ariel becomes a victim of a plot by Marina Del Rey, the girls' governess, who wishes to become Triton's attache. In the end, Ariel is successful in her quest, and Triton restores music to Atlantica.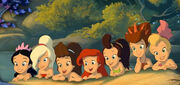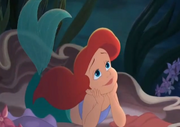 Appearance
She has fair skin, long red hair with a bang and blue eyes.
Mermaid
She has a green tail with paler green, translucent fins and wears a brassiere made out of lavender seashells. She has large, deep aqua blue eyes and full red lips.
Royal outfit #1
She wears a pink and white gown with silver barrettes on her hair and pearl white earrings.
Normal civilian
She wears a dress with light blue sleeves, a dark blue bodice, and a blue and white shirt. She also wears a big royal blue bow in her hair and black heels.
Wedding dress
She wears a long puffy-sleeved, white floor-length wedding dress with green trim and a sparkling golden tiara on her veil.
Christening outfit
She wears a gold and white dress and wears a low ponytail, decorated with a white bow.
Princess gown
She wears a sea green off-shoulder dress that has a translucent veil outside, the sleeves of the dress are puffy translucent lacey. She also wears violet seashell-shaped earrings and sea green stilettos.
Nighttime
For bedtime, she wears a frilly pink, long-sleeved, floor-length nightgown.
Abilities
While she is a Mermaid, Ariel has a few abilities:
Superhuman Strength: She is known to have at least a certain degree of superhuman strength, as she was able to move away an underwater boulder blocking her grotto with relative ease in the original film (which, in real life, an underwater object blocking an object with an unbalanced volume would result in the door being sealed shut and virtually impossible to open, which doesn't even take into account water pressure and other related factors). When discovering Eric's ship due to the fireworks, she is shown effortlessly climbing up the side of the ship with just her arms. When saving Eric, she effortlessly pulls him towards the surface and manages to keep them both afloat while holding him with one arm. Also, according to a slightly alternate version of the ending to the original film, Ariel slams into Ursula damaging her enough to knock the Trident off of her hand. The fact that she can give an Octopid Sea Witch who is at least 300 pounds and far larger than her a degree of damage by bumping into her implies that she has superhuman strength. In Ariel's Beginning, she seemed to be able to knock down a door to free her friends (This is especially telling as Sebastian stated immediately prior that Ariel was "a weak helpless girl"). It's debatable if she ever retained her superhuman strength by the time she became a human.
Superhuman Endurance: She may also have superhuman endurance, as during the final battle with Ursula in the film, Ariel was at one point knocked into a whirlpool that is several miles deep and survived with barely any injuries. Such a feat would kill a normal person if not completely destroy the body of a said person. Like her superhuman strength, it's debatable if she ever retained her superhuman endurance when she turned into a human, although her first transformation implied that it was retained as her body was not being crushed while trying to swim for air (in real life, a human who is at that depth would be crushed into oblivion in a matter of seconds, due to the immense water pressure).
Underwater Breathing: As a mermaid, she is also able to metabolize oxygen from the water, which negates the need to surface, though she is certainly more than capable of breathing on land.
Speed Swimming: Also, she is capable of swimming at a much faster rate than humans or even certain marine creatures in terms of undersea travel, or sea travel as a whole due to her half-marine status. Like dolphins, she is capable of leaping out of water at great heights. For example, she was able to get to Triton's Greenland Palace from Sicily, Italy (the implied location of Eric's kingdom) in less than a day, as well as getting from Atlantica to Norway in the episode "Metal Fish" in a similar time fashion.
Aquapathy: Because of her being a mermaid, she is also capable of speaking with aquatic fauna. She retains her ability even in human form, but her abilities of superhuman strength and endurance were retained upon becoming human is debatable.

Aquakinesis: Ariel in her mermaid form seems to possess at least a small degree of aquakinesis, which is evident where a large wave crashed from behind the rock she had been perched on shortly after rescuing him right when she sang "World!", even though the ocean itself had been relatively calm.

Swordsman: While in human form, she seems to at least have some knowledge of swordplay, which is evident when she used one to cut the rope of a mast to save Melody from Morgana.
Rapid Adaptability: She also seems to be capable of rapid adaptability. This is especially evident in terms of her becoming a temporary human, where she learned how to stand in a few minutes, and move in presumably the same timespan (whereas the average human seems to need a few months at the very least to learn how to walk), as well as quickly learning about the true human customs and abandoning her original beliefs about how human artifacts work, or at the very least not doing it in public.
Magical Voice: Ariel's voice seems to possess magical abilities. In the episode of the TV series The Evil Manta her signing voice seemed to be the only weapon that could banish the Manta from Atlantica. Her voice conqured an underwater storm that casted the Manta out of the empire. In another episode she was cursed that if she laughed her laughter would cause Sea-Quakes, however, this curse was removed by the end of the episode. Her voice was also able to awaken an unconscious Prince Eric. Although Ariel herself never used her voice in this manner, her voice can also be used in a far darker way, such as mind control, as evidenced by Ursula, while adopting the identity of Vanessa, using Ariel's voice to brainwash Eric to be her puppet as a means to get him to marry her, and thus, ensure Ariel cannot win her end of the bargain. This ability can be further proven for the only way Vanessa's (Ursula's) control over Eric could be broken was if the nautilus containing Ariel's voice was released. If this was Urusla's own magic, Ariel's voice wouldn't have been needed to cast the hypnotzing spell.
Personality
Ariel is an independent and determined young mermaid. She spends her days singing, daydreaming, and adventuring with Sebastian and Flounder. She is also an adventurous and brave girl.
Description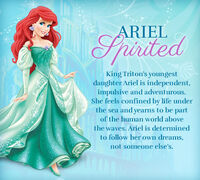 King Triton's youngest daughter Ariel is independent, impulsive and adventurous. She feels confined by life under the sea and yearns to be part of the human world above the waves. Ariel is determined to follow her own dreams, not someone else's.
Trivia
The name "Ariel" is of Hebrew and means "lion of God".
Her name along with her sisters' starts with "A".
She's the only princess who is not a human being.
Ariel's princess personality is "Spirited".
She is the first princess to have a daughter.
Ariel's web personalities are curious and free-spirited.