Queen Primrose
is a fictional character created by Walt Disney Pictures. She is
Rapunzel
's mother and wife of King Thomas.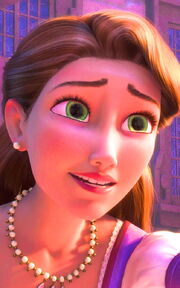 She's voiced by Kari Wahlgren.
Appearance
Queen Primrose has wavy brown hair. Her eyes are green. She has thin pink lips, her eyebrows are brown as well. She wears a beautiful pearl necklace. Her royal dress is mostly purple decorated with several swirling designs on its front and is light purple on the arms.
Trivia
The name "Primrose" is of Middle English origin and means "the first rose".
She is a basic non-speaking character. She doesn't have any speaking roles until the sequel, on Rapunzel's wedding day.

Ad blocker interference detected!
Wikia is a free-to-use site that makes money from advertising. We have a modified experience for viewers using ad blockers

Wikia is not accessible if you've made further modifications. Remove the custom ad blocker rule(s) and the page will load as expected.